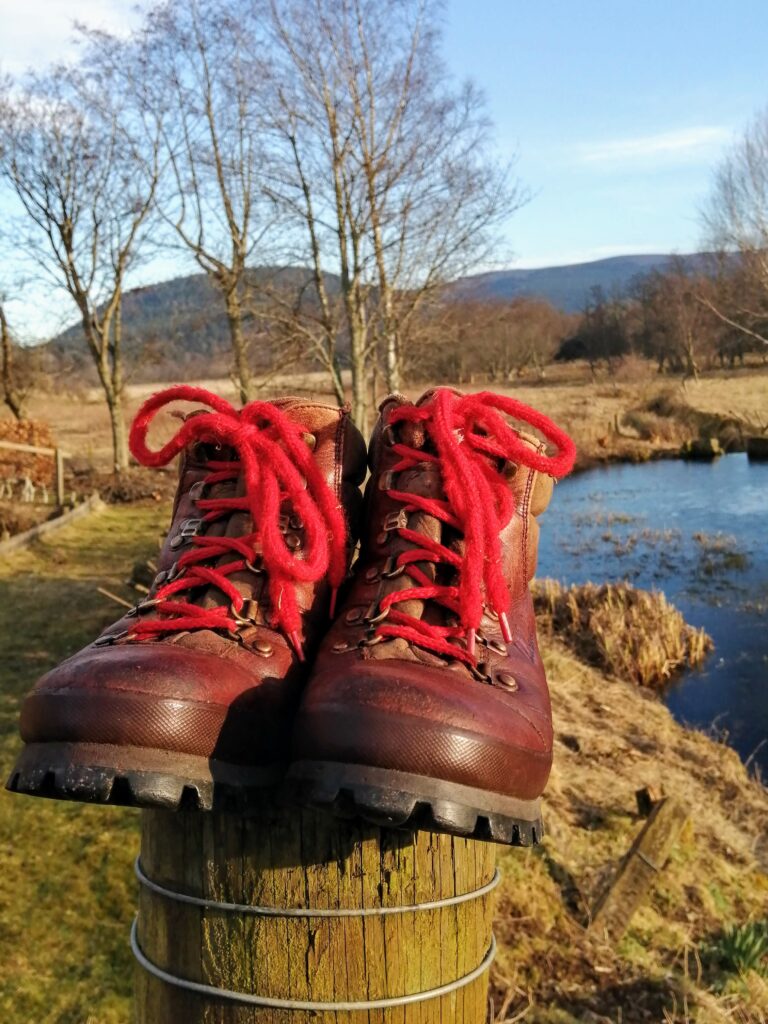 Ballater Walking Festival 2024 will be from 18th-24th May.
Sadly the 2023 festival is finished (3rd – 9th June) You can see all the information regarding 2023 in the following pages.
We are delighted to say that the Ballater Walking Festival will take place in June. This is a change this year but as two of the volunteer committee have daughters getting married in May, it was decided to go ahead in June in 2023. We have a great new programme of walks that is now on-line, and you can go directly to the Booking page to book.
This year, walkers will meet at the Hut on the Green which is opposite Glenmuick Church in the centre of the village. If the walk is circular, you may be expected to take your own or share transport. If you are willing to take others in your car, the walk leader or helper will allocate some walkers, and they are expected to pay for any parking and/or contribute to fuel expenses. In general, the Strong walks will meet at 7am or 8am, the Medium walks will meet at 9am and the Easy walks will meet at 10am but please check the time, as we have added walks to the original programme.
Thanks to the raffle held last year, we are delighted to say that we will have mobile defibrillators on most of the walks. Obviously, we hope that these will not be required, but it is good to know that they are there in case of emergency.
Walkers need to prebook each walk using our online booking system which is open now. Please do not send your bookings or any cheques by post. Each walk has a limited number of places, so please only book walks that you feel you would be able to do.
Equipment required: Please bring a small first aid kit for self-treatment of minor injuries and it would be useful to have face masks, hand sanitiser, and disposable gloves. Ensure that you bring with you your downloaded "In Case of Emergency" ICE Card. The ICE card should be put in the top of your rucksack, in a see-through plastic folder. If you have any specific medical conditional that the leader needs to know about PLEASE make these known. Any medical conditions will be treated in confidence. You can download your ICE card form Here.
Do not forget that our climate in June can be changeable, from surprisingly cold to roasting and anything in between! Please dress accordingly and pack your rucksack with extra gear as required. Do not forget to bring water, hot drinks, snacks/lunch, gloves, woolly hats, spare socks, sun hats, sunglasses, sun-cream, walking poles. Be sure to have some cash on you to pay for gratuities and raffle. Have £5 in coins for car parking. If you are a passenger in a car, please offer the driver some money to cover the cost of fuel and/pay for the parking. Please also note that the leader has the authority to shorten, change or abandon any walk in the case of bad weather or dangerous terrain such as high rivers or waterlogged bogland.
There will be a programme of evening entertainment starting on Saturday with a welcome reception, an interesting talk on the Cairngorm National Park, a festival dinner, and concluding with the final fling ceilidh (Scottish dancing). Please note that you do not need a partner at a ceilidh. We hope that on the other evenings you will go out and meet some of your new aquaintances in Ballater.
We look forward to welcoming you to the 2023 Ballater Walking Festival.
The Committee
Carole Nicoll, Jenny Macmillan, Jean Peacock and Helen Leighton