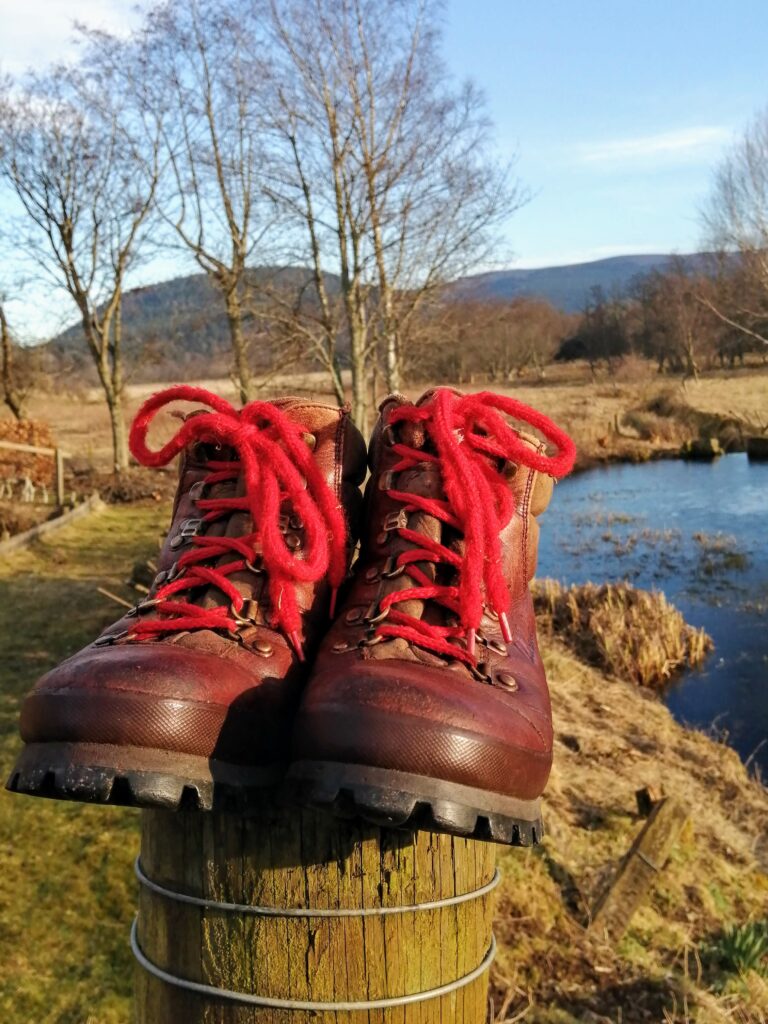 We hope to run the Ballater Walking Festival 2021.
If it is possible to run the Festival, the dates will be the 15th -21st May but, at this stage, we cannot confirm that it will go ahead. This is because we shall need to see what is happening with the pandemic, and the government guidelines, and if we can run it and keep all our walkers safe and physically distanced. It may be that walks will start and finish in Ballater, but unfortunately it looks as if the social programme will not be possible. It is a few months away yet, so lets hope that we can keep the R number down and that most of our walkers will be vaccinated by then. We very much hope to welcome you back to Ballater in 2021 if it is at all possible and safe to do so, and so a decision will be made on 15th April.
In the meantime, here is a little light relief; this take on Burns 'Tae a Moose' will make you smile
Tae a virus
Twa months ago, we didna ken,
yer name or ocht aboot ye
But lots of things have changed since then,
I really must salute ye
Yer spreading rate is quite intense,
yer feeding like a gannet
Disruption caused, is so immense,
ye've shaken oor wee planet.
Corona used tae be a beer,
they garnished it wae limes
But noo it's filled us awe wae fear
These days, are scary times.
Nae shakin hawns, or peckin lips,
it's whit they awe advise
But scrub them weel, richt tae the tips,
that's how we'll awe survive
Just stay inside , the hoose, ye bide
Nae sneakin oot for strolls
Just check the lavvy every hoor
And stock-take, your loo rolls
Our holidays have been pit aff
Noo that's the Jet2 patter
Pit oan yer thermals, have a laugh
And paddle ' doon the waater '
Canary isles, no for a while
Nae need for suntan cream
And awe because o this wee bug
We ken tae be..19
The boredom surely will set in,
But have a read, or doodle
Or plan yer menu for the month
Wi 95 pot noodles.
When these run oot, just look about
A change, it would be nice
We've beans and pasta By the ton
and twenty stane o rice.
***********
Many of our Leaders and helpers attended an all day First Aid course on Friday 28th February. This was quite an intense course and we are pleased that with our extra new first aiders, there will be qualified first aiders on all our Strenuous and Moderate walks and on most of the Easy walks too. We just hope no-one will need to take advantage of this!
A SPECIAL WELCOME FROM THE ORGANISERS
Our strenuous walks this year include some new remote Munros, as well as some old popular ones such as Ben MacDui and Derry Cairngorm. For the less energetic we have stunning walks over lower hills and through the glens. For those new to hill walking or who just want a less strenuous day, the easy walks offer mainly low level exercise.
This year we have also introduced some Special Interest Walks embracing local archaeology, conservation and heritage. We have also added the local Health Walks which are organised independently, but welcome walkers or their partners to join them.
Whichever walk you choose you can be assured of great scenery and the best of company!
The new committee members are (L to R) Carole Nicoll, Lisa MacMahon, Jenny Macmillan and Catherine Watt with help from Gillian Sinclair of BRD. GIRL POWER!
However our thanks go to Alan Officer who has guided us with the website and made online booking possible.